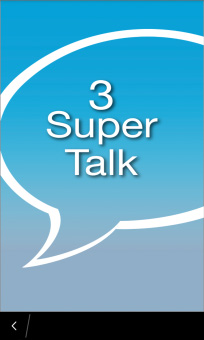 Tag:
3 Super Talk
Overview :
3 Super Talk
***3 Super Talk is only available and applicable to selected 3HK 4G LTE and / or 3G corporate subscribers ("Customer") who have registered for IDD and roaming services, (including voice and data services)***
3 Super Talk enables you to receive and make calls anywhere in the world(1), with mobile data or Wi-Fi connectivity, no matter you locate in Hong Kong or overseas. You can now stay connected with your business partners and save roaming call charges!
User Benefits:
- Keep using the original mobile number
- Unlimited incoming & outgoing voice calls to anywhere in the world(1)
- The counter party doesn't need to install the app of 3 Super Talk, and it can also make calls to your 3 Super Talk number and receive your calls by any fixed line or mobile phone
- Seamless access to the handset's original contact list
- Share the functions of caller number display and call waiting with original mobile number. The function of missed call notification is available in the App
Notes:
1.
Customer is required to pay the monthly charge for 3 Super Talk. The monthly charge only covers call charges for incoming calls and calling to Hong Kong's phone numbers via the App. It does not include charges for any mobile data (local or roaming data) or WiFi connectivity, IDD call charges or any other charges that might be incurred from using the service, and Customer needs to pay for relevant charges incurred when using 3 Super Talk.
2.
Customer shall have to understand and agree that 3HK shall not guarantee about the call quality, and that the service performance may be affected by the stability of data network or Wi-Fi connection. Customer should check with his/her network operator for any connection problems, restrictions on VoIP function, or any additional charges for using VoIP. 3HK shall not be liable for any service failure caused by the above situations.
3.
Customer shall have to understand and agree that the provision of 3 Super Talk may be adversely affected by uncertain factors such as Customer's mobile device settings, the restrictions of the relevant laws and regulations of Hong Kong or other overseas destinations, and other power failure which cannot be controlled by 3HK. If 3 Super Talk is interrupted or temporarily suspended due to the above events or other events which are beyond 3HK's control, 3HK shall not be liable for any loss or damage whatsoever incurred by Customer.
4.
Customer shall have to understand and agree that 3 Super Talk cannot be connected to any emergency number or system, and 3HK shall not be liable whatsoever for any loss, damage or expenses incurred by Customer in relation thereto.
5.
All service charges and details are subject to final decision of 3HK. 3HK reserves the right to change the service charges and details without prior notice. The usage of 3HK service is also subject to other applicable general terms and conditions which are available on www.three.com.hk for details.