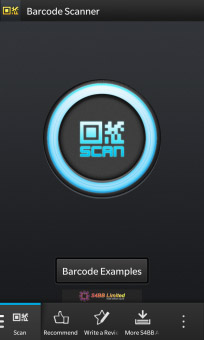 Tag:
QR Code
Barcode Scan
Overview :
Hello ,

S4BB Limited has released a new update for Barcode Scanner for BlackBerry® 10. Thanks to the new update you can now compose text messages directly from within the application. It's now also possible to share scanned Contact QR Codes and Event QR Codes as email attachments. Last but not least reported bugs are fixed, resulting in a better performing application.
Barcode Scanner for BlackBerry® is the ultimate Barcode and QR Code scanning application. With an easy to use, beautiful user interface, this award winning application allows you to scan a wide variety of 2D and 3D codes and perform actions from within the application depending on the scanned content.

Version: 3.2.0.5
File Size: 14 MB
Required Device Software Operating System: 4.5.0 or higher
BB10 Smartphone: 10.0.0 or higher
Description:
Want a quick and easy way to scan barcodes on your BlackBerry® device? Come check out Barcode Scanner, the new, simple way to read barcodes. With this scanner you can quickly read barcodes in the following formats:
- QR Code
- CODE 128
- CODE 39
- DATAMATRIX
- EAN 13
- EAN 8
- ITF
- PDF417
- UPC A
- UPC E
Once you have installed and started up Barcode Scanner, you can just click the scanner button once to activate the camera/scanner to scan the barcode. The barcode will be read and the URL will be displayed. You may either continue to that URL, copy it to the clipboard, copy it to VCalendar (VEvent, VTodo), or via VCard. It is as easy as that!
You may choose to have your BBM™ status update every time you scan a code. This is now a BBM™Connected application.
If you like Barcode Scanner please write a review. Thanks.
This product comes with a 30 day value back guarantee. More info: http://s4bb.com/returnpolicy