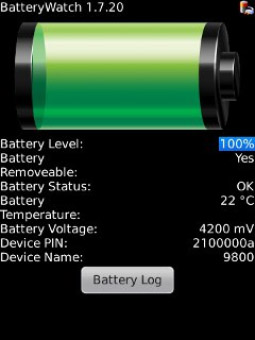 Tag:
BB10
Battery Watc
Overview :
S4BB Limited has released new updates for Battery Watch & Lock Apps for BlackBerry® OS. The new update fixes reported bugs and improves the overall performance of the applications.

Battery Watch allows you to monitor your battery performance in detail. Thanks to celebrity voice notifications, you'll never run out of battery again without warning.

Version: 1.10.1
File Size: 1 MB
Required Device Software Operating System: 5.0.0 or higher
Tablet: 2.0.0 or higher
BB10 Smartphone: 10.0.0.0 or higher

Description:
Get a quick overview on your BlackBerry® device's battery state.
Features:
Tracks battery status over time - Line chart visualization of battery state by day, week, month.
Integration into native BlackBerry® applications - Battery level indicator icon and battery state (full charged, charging, unplugged).
Running out of battery warnings - Adjustable warning level and notifications.
Battery Info Shown:
- Battery Level
- Battery Removable
- Battery Status
- Battery Temperature (Celsius and Fahrenheit visualization support)
- Battery Voltage
- Device Name
- Device PIN

NOTE: As a result of the latest update for BlackBerry® PlayBook Tablets , Battery Watch is currently not compatible with BlackBerry® PlayBook Tablets running OS 2.0. We expect Battery Watch to be fully functioning again on the upcoming BlackBerry® PlayBook™ Tablet OS 2.1. We apologize for any inconvenience caused, and thank you for your patience.