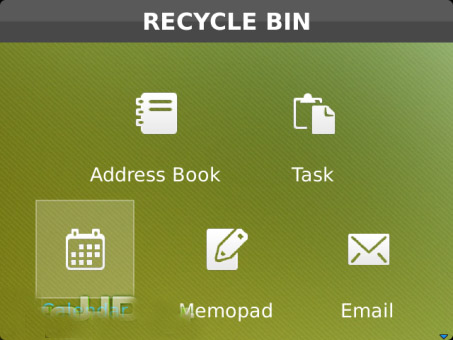 Tag:
Recycle
Bin
Overview :
Recycle Bin v1.2 – Want to recover that "accidentally" Deleted Email or Contact? Cant seem to find your important Notes, Task or Memos and afraid that it was accidentally deleted about a month back!? Here comes RECYCLE BIN for BlackBerry! Recover Deleted Mails, Contacts, Calendar, Tasks, Memos etc even after weeks of deletion!
No more Accidental Deletion and fretting about lost data! Simply goto Recycle Bin and click UNDELETE! Recover accidentally deleted calendar meetings, to do or memo items etc!
Recycle Bin comes with rich configuration options that allows you set how many items of each type you want to keep in your Recycle Bin, and for how long.
Version: 1.2
File Size: 2 MB
Required: 5.0.0 or higher
Model:
Blackberry OS 7.1 Series: P'9981, 9860, 9850, 9810, 9620, 9360, 9350, 9320, 9315, 9310, 9220, 9930, 9900, 9720, 9790 / Blackberry OS 7.0 Series: P'9981, 9860, 9850, 9810, 9380, 9370, 9360, 9350, 9930, 9900, 9790 / Blackberry OS 6.0 Series: 9800, 9670, 9105, 9100, 9330, 9300, 9780, 9700, 9650 / Blackberry OS 5.0 Series: 9630, 9800, 9530, 9500, 9550, 9520, 9105, 9100, 9330, 9300, 8980, 8900, 8530, 8520, 8350i, 8330, 9700, 9650, 9000