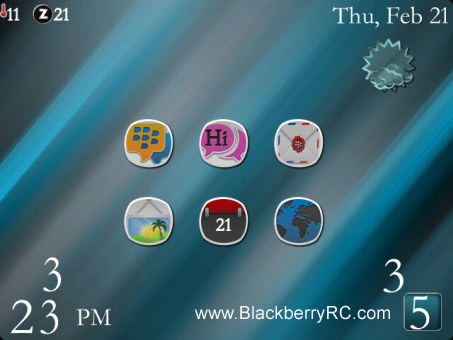 Tag: bold Estilo
Overview :

free Estilo theme for 99xx bold os7



Theme support BlackBerry
9900, 9930, p9981
running OS7.0 and higher.
Due to lack of TB support, icons in your folders will NOT SHOW. But don't worry they are still there, you can use the S key shortcut, move your app to the home folder, or use an app like AOSLED to access your app. Sorry for the inconvenience.
Once again the team of 12345 Themes and Keep Calm and Berry On bring you another stunning theme.
Estilo means style, and style you will have on your 99xx. Featuring a 6 custom icon animated hidden dock, custom clock and meters, and a WS. The teal and grey color accents add to the stylish look.
This is all laid out in a clutter free, simple design that will show off any of your backgrounds. Dare to be stylish and get Estilo for your Bold!
1 and 2 to show/hide dock