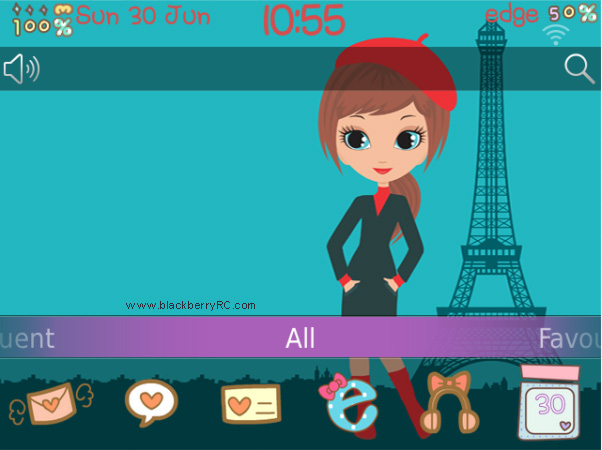 Tag: Paris Preety
Overview :

free Preety in Paris 99xx bold theme (Customized Media Player)

Features:


☆☆☆ Customized Media Player with cute buttons

☆☆☆ Make your BB! a cute chick.

☆☆☆ Custom Battery and Signal indicator with %age meter.

☆☆☆ Pure girly theme.

☆☆☆ Cute girly icon set.

☆☆☆ Newest icon set that you never seen.

☆☆☆ Semi-transparent menus and dialogues.


clean and responsive.

☆☆☆ Very eye pleasing color scheme for menu and dialogues.

☆☆☆ No more hidden folders with this version.

☆☆☆ Girly and wallpaper friendly theme

☆☆☆ Girly Indicators for messages and BBM

☆☆☆ Clean home-screen. Almost fit for any wallpaper.

BlackBerry support model: 9900 9930 p9981

Thanks and hope you enjoy!