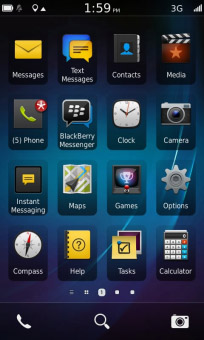 Tag:
bold
9790 themes
Future
Overview :
Future II v2.0 for Blackberry 9790 os7.0 themes
size: 315 kb
model: os7.0 bold 9790

Description:
v2.0 Add page 2 and page 3 ! Touch the blanks to change or use the rollerball . Add 9800 and 9380 support ! v1.1 is coming soon . Some guys think the transitions is too lag or slow ,because it was a animation with 2sec .
So I take it fast in the v1.1 that u don't like it . And changed today icons in 480x360 phone . Hope u can love !

Real OS 10 Like Homescreen;
Real OS 10 Icons;
Real OS 10 Wallpaper;
All of Real OS 10 .
- HS Weather icon(slot0) or Camera icon switch;
- HS Today area display or hide switch;
- Big Time show; - Battery charging animation;
- Two windows Animated transitions switch like OS 10 lock or unlock;
- HD icons of Real OS 10;
- Rollerball and touch screen was Perfected combination;
- Every theme Size is less than 1MB;
- U must love it ! I belive ! U will never refuse her !
**The OS 7 theme will take the icons of folder disappears . But this does not affect the use. You can use the search function to find them. You can move the icons to the folder if you want to hide the icons. So that others can not find them. It can be said is unique to the new features in your OS 7 BB**