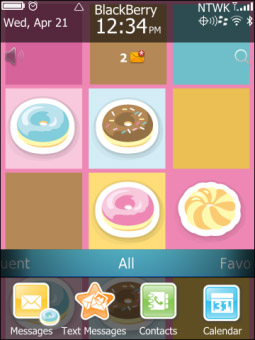 Tag:
torch
9860 themes
9850 themes
Donut
Overview :
Donut Theme for torch 9850, 9860 themes
File Size: 1.21 mb
Model:
Blackberry 9850, 9860

Description:
Donut Theme OS7 Support come withe sweet Donuts wallpaper and sticker icon set.These simply icons has tiny Donut shape indicator for you to help showing what application you use.
**Please Read Remark**...
If have something can't show on your mobile. This screenshot is example some OS because can't show every OS. If you have problems or suggestions please do not hesitate to let us know. We will be on immediately.