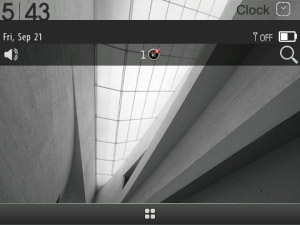 Tag:
bold
9900 themes
Equis
Overview :
Equis by Pootermobile for BB 9900, 9930 os7.0
size: 959 kb
model: Bold 9900, 9930, 9981



Description:
Once again The World Of Pootermobile is here to dress up your BlackBerry with flair and style! Equis is "x" in Spanish, x as in ten, BlackBerry 10! This theme uses many elements from BB10 and it looks oh so good on your OS7 /OS6 device! Most apparent are the slick and minimal icons that are pleasing to the eyes and go with pretty much any wallpaper. And that is why the neutral colors of Equis were chosen as well, for a good combination of your wallpaper and theme. Another slick addition of BB10 is in the media player with some nice blue accents and just all around goodness. To round out Equis a weather slot sits nicely on the homescreen banner for a weather app or your favorite app. What are you waiting for? Grab Equis today for a touch of BB10 on your BlackBerry!
Weather slot how-to: The icon that shows up in the top right of the banner is app number 19 in your app list. Move whatever icon you want up there to position number 19, then do a battery pull so the change can take effect. A battery pull is necessary there really isn't a way around that.
Default OS7/OS6 layout
Wallpaper friendly
Custom icons
Media player skinned