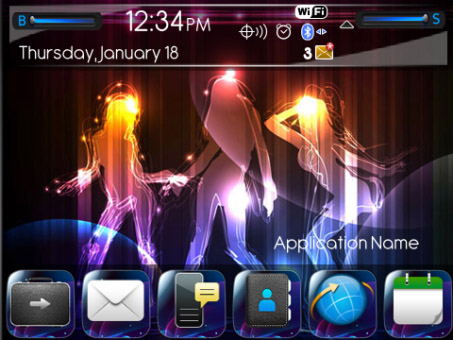 Tag:
curve
9350 themes
Neon Girls
Overview :
Neon Girls for 9350/9360/9370 OS7 themes - Get this beautiful Neon Girls theme to your BlackBerry®. Definitely you satisfy with this theme

Version: 2.0
File Size: 2 MB
Compatible: BlackBerry Curve 9350, 9360, 9370
Note:
Calling Screens are not Customized for OS7 devices.
Features :
* Complete customized theme to give a Awesome look to your BlackBerry
* Customized battery meter
* Customized signal meter
* OS7 Icons Set
* Five beautiful colorful Neon Girls backgrounds
* Beautiful font which suitable for theme
To activate the theme after successfully downloading:
Navigate to Options - Theme - Select the desired Theme and activate.
To uninstall a theme please delete it in the application list.


We Hope you like it !