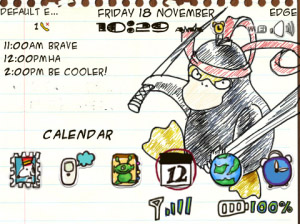 Tag:
bold
Ninja
9790 themes
Doodle Duck
Overview :
Doodle Duck Ninja for 9790 bold themes - A stunning doodle theme telling a legendary story about a duck ninja!~ We could review the ranger life of the duck at Incoming Call Screen, Calling Screen, Lock Screen... More for exploring! :)

Size: 1411 KB
model: blackberry bold 9790

Features:
1. Not just a theme, but also a story;
2. Cute character:Duck Ninja;
3. Doodle Style;
4. Message preview when hover on for OS5.
To activate the theme after successfully downloading: Navigate to Options - Theme - Select the desired Theme and activate. To uninstall a theme plz delete it in the application list.
Guarantee satisfaction:
If you find a bug or have a feedback, kindly write email to us, we can assist you well or provide revision asap, because we could not reply App World Reviews. Let's make a great app together! :)
Now support all OS7 devices as well!