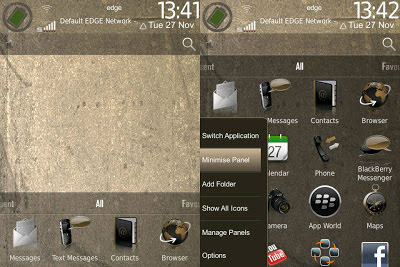 Tag:
torch
9850 theme
Magazine
Overview :
free Magazine theme for 9850, 9860 os7.x model - Magazine conveys perfect design, ideal and very simply navigation! With smooth transitions and well thought out usability aspects, getting to where you want is convenient, simple and quick.

Version: 1.1.4
File Size: 3570 KB
Compatible: BlackBerry Torch 9850, 9860 OS7.xx

Description:
If you have questions or need tech support please contact us before posting a review - we can t see who you are and therefore cannot respond in reviews.
Features:
4 Сustom icons
23 Locked quick access icons
Hidden dock
16 HotKeys
Background on all screens
All application icons
Menu colors, highlights, alert icons and buttons
Fonts and colors
Profile icons
Hotkey list:
c: Calender
e: Messages
f: FaceBook
i: Pictures
l: Lock device
m: MySpace
r: App World
s: Universal Search
t: Twitter
u: Music
w: Task
v: Videos
x: Maps (BlackBerry®)
y: Manage connections
p: SMS
0: Profiles