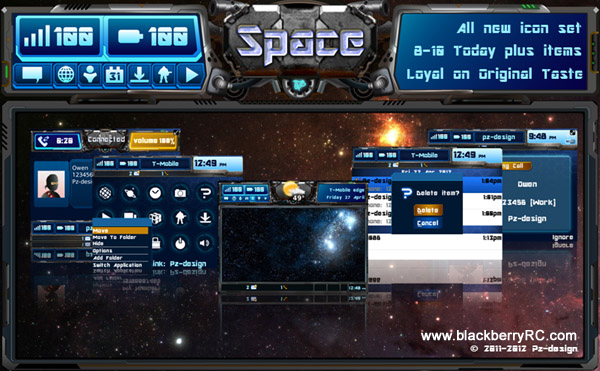 Tag:
Space
99xx
bold
os7.0 themes
Overview :
The Space for BlackBerry 9900, 9930, 9981 os7.0 themes
size: 3.2 mb
Model: Blackberry bold 9900, 9930, 9981

Description:
I'm a big fan of StarCraft. If you have ever played this game, you will feel familiar with this theme. Yes, the home screen is almost the same as it in the game. Space theme is a theme that I want to make for a long time. It has been almost one year since the first image was drawn. And after a long gap, I pick it back and continue to finish it. All the image is made by AI and PS except the homescreen background.
The homescreen is made by SVG so it's wallpaper friendly. You can change it to your own pictures. A weather dock is available on the top banner. The time is maybe a little small to you which is at the right bottom. When you move to the message and calendar icon, there will be 8-10 today plus displayed in your screen which is decided on your phone, different phone and OS have different today plus numbers. Some people will have trouble with launching Media folder from homescreen. This is a SVG bug, if you meet this problem, try to reboot your phone and this may solve.


Give me a Digg if you love it.