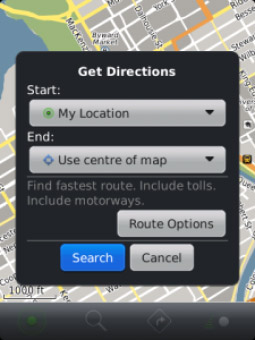 Tag:
Google
GPS Map
Overview :
GPS Map Places Near Me using Google 1.3 for blackberry apps
size: 60 kb
Model:
Blackberry 9300(Kepler), 9320, 9330, 9350, 9360, 9370, 9380
Blackberry 89XX Curve Series (480*360): 8900(Javelin), 8910(Atlas), 8930, 8950, 8980
Blackberry 90XX Bold (Onyx) Series (480*320) Devices Models: 9000, 9020(Onyx)
Blackberry 96XX Tour (Niagara) Series (480*360):9600, 9630, 9650(Tour2), 9700(Bold2), 9780, 9790, Dakota, Apollo
Blackberry 95XX Storm Series (360*480):9500, 9510, 9520, 9530, 9550(Storm2), 9570(Storm3)
Blackberry Torch Series: 9800(Torch), Torch2, 9810, 9860
Blackberry Pearl 3G Series (360*400) Devices Models: 9100, 9105, 9670(Style)
Blackberry 99XX (OS 7.0) Series (640*480) Devices Models: 9900, 9930, 9981

Description:
Never be lost again with Places Near Me Search. It uses your current GPS location and allows you to find whats near you very quickly. and painlessly One click presets for Banks, ATMs, Gas, Restaurants, Police, Hospitals, Liquor Stores, Shopping Malls or choose All and search for anything. Results give you full address and distance to each of the businesses and you can instantly click on each for full map view of the location relative to your current position. Now you can always know what is near you.
▬▬▬▬▬▬▬▬▬▬▬ Reviews ▬▬▬▬▬▬▬▬▬▬▬
Title: Excelent application Has the latest places.
Title: Awesome Really is a fantastic tool every should have.
Hope you like this app.