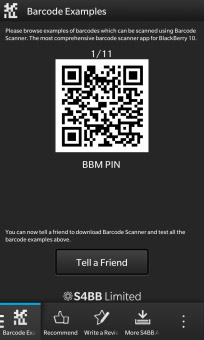 Tag:
s4bb
Barcode
Scanner
Overview :
S4BB Limited has released a new update for their Barcode Scanner application for BlackBerry® 10 Smartphones. With the new update users can now also scan BBM™ Channel QR codes. This Built for BlackBerry™ designated application is by far the best barcode scanning application available on BlackBerry World™.
Barcode Scanner not only scans a wide variety of barcodes and QR codes, but also allows the user to perform actions depending on the scanned content. For example, when scanning a QR code containing a phone number, the user can make the call straight from within the application without having to copy the number first. Thanks to the history list it is also possible to look up previously scanned content.
Barcode Scanner is available for free at BlackBerry World™ and compatible with all BlackBerry® 10 Smartphones as well as BlackBerry® Legacy OS devices.

enjoy.