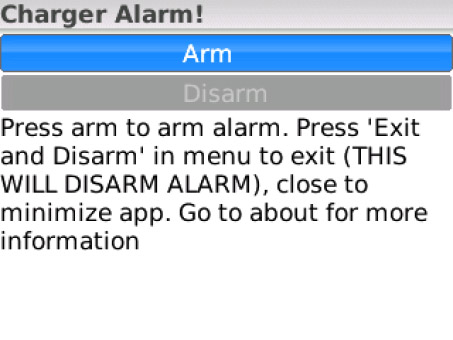 Tag:
Charger Alar
Overview :
Anti theft alarm! Sound Alarm When Charger is Unplugged!
Don't worry about having to leave your phone charging unattended! Charger alarm will sound an alarm when your phone is unplugged. Useful for when a plug isn't near somewhere to sit so that you can leave your phone and know it will be safe.
App is in beta and may not work on all devices please test before using.
Features:
- Sound alarm when charger is unplugged
- Volume locked when alarm is going off
- Easy to use user interface
New version 3 to try and fix for devices that are not working. Removed Support for version 4.5
Please email before you leave a negative comment of it not working so that I know what devices work and can fix the app.
Please Email Suggestions and Bugs!

Version: 3.0
File Size: 211 KB
Required: 5.0.0 or higher
Model: Blackberry 89XX Curve Series (480*360): 8900(Javelin), 8910(Atlas), 8930, 8950, 8980/Blackberry 90XX Bold (Onyx) Series (480*320) Devices Models: 9000, 9020(Onyx)/Blackberry 96XX Tour (Niagara) Series (480*360):9600, 9630, 9650(Tour2), 9700(Bold2), 9780, 9790, Dakota, Apollo /Blackberry 95XX Storm Series (360*480):9500, 9510, 9520, 9530, 9550(Storm2), 9570(Storm3)/Blackberry Torch Series: 9800(Torch), Torch2, 9810, 9860/Blackberry Pearl 3G Series (360*400) Devices Models: 9100, 9105, 9670(Style)/Blackberry 99XX (OS 7.0) Series (640*480) Devices Models: 9900, 9930, 9981