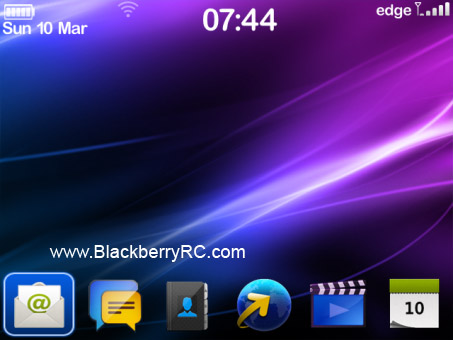 Tag:
Classic
Themerzz
Overview :
Classic Zen Style Theme with BlackBerry 10 Icon Set (9900/9930 OS7) – Due to OS bug between OS7 and Custom Layout themes the icons located in folders will be INVISIBLE!
icons in folders will NOT SHOW. You can use universal search to find your app, move the icons out of the folders
-Old classic zen style theme with new look
-the interface that all you familiar with
-newest BlackBerry 10 icon set from BlackBerry 10.
-weather slot on main screen. (Only for 97xx, 99xx)
-to hide/show weather slot on home screen press ALT + +/-.
-BlackBerry 10 icons set with Glass effects.
-Semi-transparent menus and dialogues.
-very clean and responsive.
-very eye pleasing color scheme for menu and dialogues.
-A very Clean and wallpaper friendly theme
-BlackBerry 10 Indicators for messages and BBM
-Clean home-screen.
-Original BlackBerry 10 Icons for all devices.
-Almost fit for any wallpaper.
Version: 1.1
File Size: 4 MB
Compatible: BlackBerry Bold 9900 and 9930 OS 7.0 – 7.1