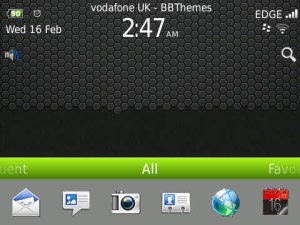 Tag:
bold
9900 themes
Robotik
Overview :
free Robotik for 9900,9930,p9981 os7 themes
size: 1.01 mb
model: bold 9900, 9930, p9981
Description:
Robotik is a beautiful new theme for your BlackBerry®. While still holding true to the BlackBerry 6 UI with the sliding pages, this theme adds a gorgeous set of icons and vibrant green highlights to make your phone stand out from the crowd.
enjoy!!