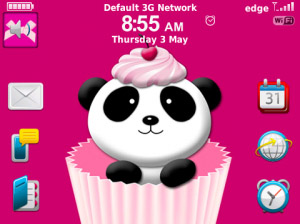 Tag:
Panda
9900 themes
9930 themes
cherry
Overview :
Cherry Panda for blackbery 9900, 9930 themes os7
szie: 1.01 MB
model: 9900, 9930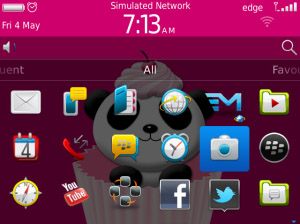 Description:
Free Cute Cherry Panda theme from MMMOOO in this hot summer!! ***Please download and write your review!
Cherry Panda is a very fresh theme with original layout and elegant icons, compatible with all devices very well include OS7. It is wallpaper friendly, but I do not think you will change the cute Panda... :)
Features:
1. Cute and Clean, very comfortable to use.
2. Classical elegant icons, delight users' eyes.
3. Optimized very well, will not consume extra battery and as smooth as the default theme!!!
Tips:
For OS7 theme studio is still not released, so there will be no customized home screen layout and SVG effects. if you have questions or need tech support please contact us before posting a negative review, we will try our best to assist!
To activate the theme after successfully downloading: Navigate to Options - Theme - Select the desired Theme and activate. To uninstall a theme plz delete it in the application list.
Guarantee satisfaction:
If you find a bug or have a feedback, kindly write email to us, we can assist you well or provide revision asap, because we could not reply App World Reviews. Let's make a great app together! :)