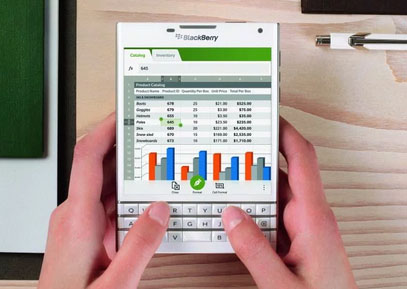 The new BlackBerry Priv will definitely get the latest Android 6.0 Marshmallow update, as confirmed in an announcement made by BlackBerry's executive Ron Louks at the CES 2016.
According to Louks, the company will offer more specific details regarding the update rollout in the first quarter of 2016, which obviously gives a clearer picture as compared to the earlier announcement on when the device is getting the latest Android OS update. With an announcement in Q1, the rollout itself should follow shortly afterward.
This means that owners of the BlackBerry Priv should not expect the rollout to begin anytime soon. Instead, they have to wait a little longer for definitive details on when the first Android-based BlackBerry will be updated to Android Marshmallow.
It should be noted that the BlackBerry Priv runs on Android 5.1.1 Lollipop out of the box and that it started to hit the store shelves in November 2015.
The device also got its first software update, which brought in notable improvements, albeit no Marshmallow treats. These include the improved speed of the camera app, stability, security and overall performance. Other adjustments brought by the update include the enhancement of the handset's reliability and the reduction of freezing and crashing occurrences.
The update also includes security patches for December, which should make owners of the handset feel at ease that their new Priv smartphone is protected against threats on security that is based on the Android OS.
BlackBerry CEO John Chen said that the Priv has been a well-received device, and for that reason, he added that the company will be releasing a couple of new Android-based smartphones in 2016.
The decision to switch to the Android OS could perhaps be attributed to the performance of BlackBerry's proprietary OS. Based on a ComScore report, the company's OS had a market share of a mere 1 percent by October 2015.
Android, on the other hand, had a dominant market share of 52.9 percent during the same time frame.
In the meantime, Louks said that owners of the BlackBerry Priv should expect to hear some announcements on new accessories for the handset from third-party makers in the coming weeks. There is a huge possibility that the company will make these announcements at the upcoming Mobile World Congress event in Barcelona which is scheduled to occur in late February.
The BlackBerry Priv, which is designed with a physical QWERTY keyboard that is used like a slider, will also become available through T-Mobile beginning on Jan. 26. It will also be offered by Verizon Wireless by the end of March.
Customers can get the BlackBerry Priv through the company's official site. Other sites outside the U.S. include TELUS, Bell, Vodafone U.K. and Rogers. The handset will be available in 31 countries this year.

source: www.techtimes.com