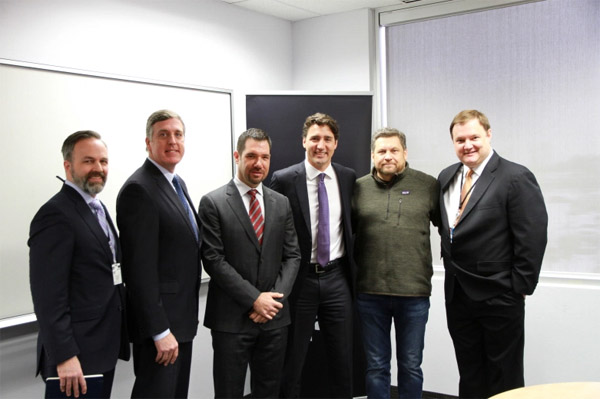 We here at BlackBerry were excited to have the Prime Minister of Canada visit us during a recent stop in Waterloo. After announcing a new initiative for water research at the University of Waterloo, Justin Trudeau visited the BlackBerry Network Operations Centre (NOC) on Thursday to see where we manage world class service levels for our global customers.
The NOC team ensures that the millions of customers we have globally and the billions of messages they send are successfully delivered every day around the world.
We're extremely proud to have shown off the NOC to the Prime Minister. It, along with our BlackBerry Infrastructure, is where we manage the immense amount of global data that passes through BlackBerry devices worldwide. It's also part of what gives us our leading edge in the world of security and privacy.
The visit was an honor and below you can see a photo of the Prime Minister with BlackBerry executives below, from left: Eric Smith (Head of Govt. Relations (Canada)), Iain Kennedy (CIO), James Yersh (CFO), Trudeau, Ron Louks (President, Devices) and Ryan Harkins (VP, Engineering & Operations).