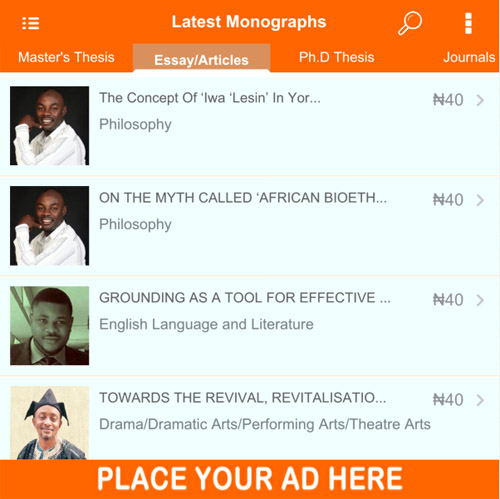 Tag:
Classic apps
TAM
Overview :
The Academic Monographs (TAM) is a mobile application designed to provide academic materials and resources for students and researchers.
Recent research shows that students spend more time with their phones than they do reading. Another research also shows that there is a rapid decline in the use of library by students, this also implies that the reading culture has dropped tremendously. Students rather visit search engines on the internet to source for academic materials than spend time in the library.
The academic monographs is another on-line mobile library for students across the globe to access academic materials on-the-go and right at the comfort of their hostel, class rooms recreation centers and in a bus going home or coming to school.
✔ STUDENTS PROFILE / ACCOUNT
The user creates a profile immediately after downloading the application or at the point of purchase. At this point, the user is expected to create a username and password for further logins. Users can also personalize the application by uploading their pictures at the point of registration.
✔ ACCOUNT
Once a username and password is created, an account is automatically created for the user, this enables the user(s) to credits his/her account and also uses his/her verve, visa or master card on the platform.
✔ PURCHASES/DOWNLOADS
Once registered, users can buy academic materials on the platform. Once a transaction is successful, the complete materials is automatically saved to a folder called "My Library" in the application. Users can then read the full materials.
NOTE: At the point of buying, you will be required to supply your account/card information. This is safe as all financial institutions on the platform are secure, verified and safe.
✔ MY LIBRARY
My library is a storage unit created for every user immediately they create their profiles. All downloaded materials by users automatically goes to 'My Library.'
Supported Devices:
BlackBerry Classic
BlackBerry Leap
BlackBerry Passport
BlackBerry Passport Silver Edition
BlackBerry Q10
BlackBerry Q5
BlackBerry Z10
BlackBerry Z3
BlackBerry Z30
Porsche Design P9982
Porsche Design P9983