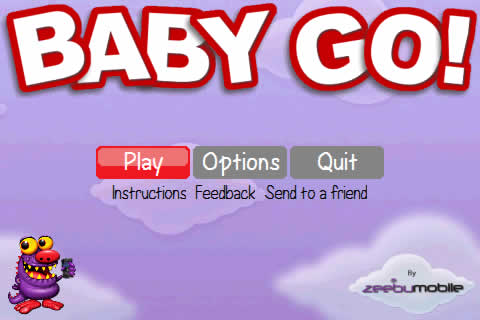 Tag:
Baby GO
Overview :
Baby GO! apps for blackberry
Description:
Baby GO! English is a BlackBerry® application for your 0-2 year old. It will keep them entertained, help them to learn, and keep your BlackBerry® device safe. Your little one will love pressing the keys, seeing colorful images dance around the screen and hearing the letter, number or name of the object being pronounced. You will love that all your device information is safe and you do not have to bring an armful of toys everywhere you go.
It s Fun:
Baby GO! English will keep your little one engaged for hours.
It s Visual:
Colorful, letter blocks dance around the screen and disappear with each key pressed.
It s Educational:
Your little one will giggle as they see the cute images and hear the associated word
It s Convenient:
It s a great toy to have in a jam when your little one acts up and your are toy-less.
It s Safe:
Don t worry about them making calls or messing up emails. All keys are intercepted so your device is protected.
** For updated information including news & latest releases, please visit http://www.zeebu.com **
** NEWS: Personalize your BabyGO! in the latest version with the ability to record your own voice or sounds and change labels. Get it now in BabyGO! for a limited time.
Model:
Blackberry 89XX Curve Series (480*360): 8900(Javelin), 8910(Atlas), 8930, 8950, 8980/Blackberry 90XX Bold (Onyx) Series (480*320) Devices Models: 9000, 9020(Onyx)/Blackberry 96XX Tour (Niagara) Series (480*360):9600, 9630, 9650(Tour2), 9670, 9700(Bold2), 9780