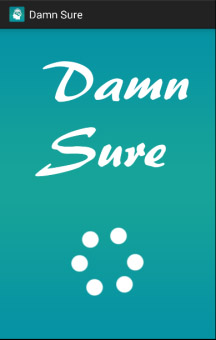 Tag:
Damn Sure
Overview :
free Damn Sure 1.0.3 for classic, passport apps
Learning something is the nature of Human Being and it keeps on alive when you keep your vision spotlight on meaningful and interesting things.
Example for Perfect Time to Use this Application:
Conversational Part between "You" & "Someone".
You and your friend, colleague, relative say anyone.
You : Did You know ? about this *fact*
Someone : What ! Really that's amazing .
You: It is ! And is Damn Sure truth.
Someone: Seriously
You : Wanna Hear next one.
Someone: Yeah Please Dying to know next Unheard thing.
and conversation continues and you and someone will Damn Sure Enjoy this facts.
Damn Sure has been chosen to give a pact of 99.9 % accuracy on all facts.
Features:
You can also copy the facts and browse the link in facts if given.
World will be half empty glass unless we know it. If we have still 0.01 % knowledge, it is enough for us to visualize the half fill water.
BROAD CATEGORIES:
"Damn Interesting"
- Knowledge Knots
- Uber Facts
- Psychological Truth
- Technology Facts
"Damn Factualism"
- Factsionary
- Daily Cloud Notes
- Punch Charge
- Freak For Facts
"Damn X Factor"
- What the F*** Facts
- University Facts
- Students Kick
- WOW Facts Of Life
Supported Devices:
BlackBerry Classic
BlackBerry Passport
BlackBerry Q10
BlackBerry Q5
BlackBerry Z10
BlackBerry Z3
BlackBerry Z30
Porsche Design P9982
Porsche Design P9983