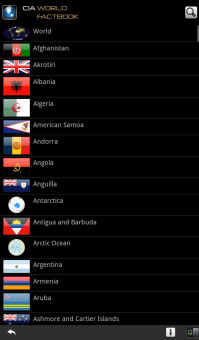 Tag:
Factbook
CIA
Overview :
S4BB Limited has updated their CIA World Factbook 2013 application. The new version comes with a variety of changes and improvements:
Country data can now be cached for offline use
Content rendering has been improved significantly
Search-as-you-type feature for devices with physical keyboard has been improved
A custom splash screen has been added
With CIA World Factbook 2013, BlackBerry® 10 users have access to detailed data on over 270 countries, featuring useful information on population, geography and a lot more!
CIA World Factbook 2013 is compatible with all BlackBerry® 10 Smartphones and can be downloaded at BlackBerry World™.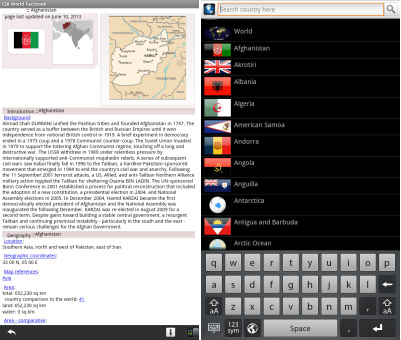 Required: os5.0.0 - 7.x , os10
Model: Blackberry OS 7.1 Series: P'9981, 9860, 9850, 9810, 9620, 9360, 9350, 9320, 9310, 9220, 9930, 9900, 9720, 9790 / Blackberry OS 7.0 Series: P'9981, 9860, 9850, 9810, 9380, 9370, 9360, 9350, 9930, 9900, 9790 / Blackberry OS 6.0 Series: 9800, 9670, 9105, 9100, 9330, 9300, 9780, 9700, 9650 / Blackberry OS 5.0 Series: 9630, 9800, 9530, 9500, 9550, 9520, 9105, 9100, 9330, 9300, 8980, 8900, 8530, 8520, 8350i, 8330, 9700, 9650, 9000
BlackBerry Q10, BlackBerry Q5, BlackBerry Z10, BlackBerry Z30, Porsche Design P9982