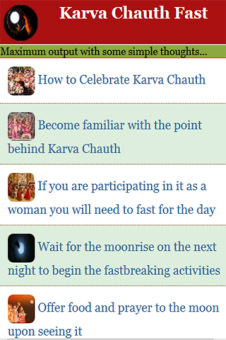 Tag:
Fast
Karva
Chauth
Overview :
Karva Chauth Fast 0.0.1.1 for blackberry passport apps
Karva Chauth is a one-day festival celebrated by Hindu women in North India in which married women fast from sunrise to moonrise for the safety and longevity of their husbands.The fast is observed in the states of Uttarakhand, Uttar Pradesh, western Bihar, Himachal Pradesh, Jammu and Kashmir, Haryana, Punjab, Rajasthan, Chhattisgarh, Madhya Pradesh and Gujarat.The festival falls on the fourth day after the full moon, in the Hindu lunisolar calendar month of Kartik. Sometimes, unmarried women observe the fast for their fiancés or desired husbands.
Karva is another word for'pot'(a small earthen pot of water) and chauth means 'fourth' in Hindi (a reference to the fact that the festival falls on the fourth day of the dark-fortnight, or krishna paksh, of the month of Kartik).It is uncertain how the festival originated and how it came to be celebrated only in the northwestern part of the Indian subcontinent. One hypothesis is that military campaigns and long-distance travel usually resumed around the time of the festival, as the area dried and numerous rivers of the region (see Sapta Sindhu) subsided from the effects of the monsoon.
Supported Devices:
BlackBerry Passport
BlackBerry Q10
BlackBerry Q5
BlackBerry Z10
BlackBerry Z3
BlackBerry Z30
Porsche Design P9982
Porsche Design P9983