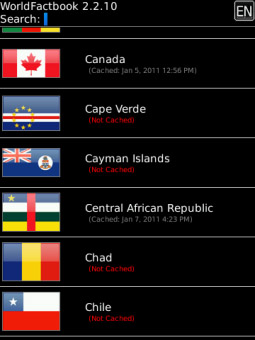 Tag:
Overview :
Hello, everybody:

Any frequent traveler can tell you about the importance of preparation. Knowing the ins and outs of your destination is a crucial part of that.
S4BB Limited's CIA World Factbook 2013 offers you information on over 270 countries and territories straight on your BlackBerry® Smartphone or Playbook™. Once cached, you can access the info without connection. Thanks to integrated search, finding the right information is a piece of cake. Read up on Culture, People, Economy, Climate and much more with CIA World Factbook 2013.
CIA World Factbook 2013 is available at BlackBerry World™ and compatible with BlackBerry® 10, BlackBerry® OS 5 to 7 & Playbook™.