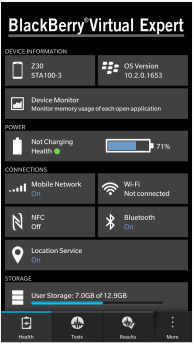 Tag:
classic game
Passport game
Overview :
BlackBerry Virtual Expert v3.2.3.1031 for blackberry games

Does your BlackBerry need a health assessment? Are you considering a repair? The BlackBerry Virtual Expert diagnostics application is a simple self guided diagnostics app brought to you by BlackBerry.
You will be guided through a series of hardware tests to produce a test results summary.
Here is a sampling of the current tests, customized to your BlackBerry model features:
- Touch Screen
- Display
- USB port
- Main Keypad
- Keyboard
- Side keys
- Slider
- Cameras
- Camera Flash
- Receiver Speaker
- Loudspeaker
- Stereo Loudspeaker
- Stereo Headset
- Microphone
- Vibrator
- Bluetooth
- Status LED
- Gyroscope
- Accelerometer
- Orientation Sensors
- HDMI connector
- USB connector
- SIM Card Connector
- SD Card Connector
- Wireless Charger
- GPS hardware
- Light Sensor
- Proximity Sensor
- Wifi
After the tests, you can choose to send the test result summary data to help improve BlackBerry products and services.
Version 2.9 contains new tests such as Sensor Services, Stereo Loudspeaker, and GPS tests and enhances the usability of some existing tests. Detection of USB Charging at startup has been fixed. The health screen displays advanced connectivity information about network strength and carrier, and whether or not airplane mode is enabled, as well as a direct connection to 'Maps - My location'.
*If any of the tests have failed, you may wish to contact your service provider for customer support. Allowing you to get back to using your BlackBerry quickly and efficiently.
Supported Devices:
8100 8110 8120 8130 8130m 8220 8230 8230f
8300 8310 8320 8330 8330m 8350i 8520 8530 8900 8910 8980 9000
9100 9105 9220 9300 9310 9315 9320 9330
9350 9360 9370 9380 9500 9520 9530 9550
9620 9630 9650 9670 9700 9720 9780 9788
9790 9800 9810 9850 9860 9900 9930 9981
BlackBerry Classic
BlackBerry Leap
BlackBerry Passport
BlackBerry Passport Silver Edition
BlackBerry Q10
BlackBerry Q5
BlackBerry Z10
BlackBerry Z3
BlackBerry Z30
Porsche Design P9982
Porsche Design P9983