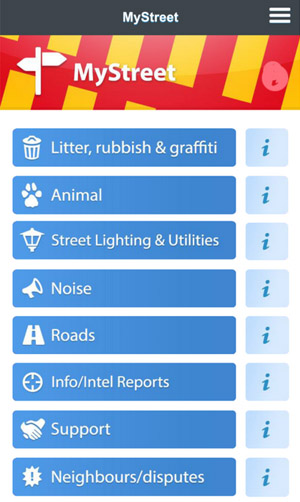 Tag:
blackberry apps
MyStreet Northumberland
Overview :
MyStreet Northumberland v0.0.1.1 for blackberry apps
The MyStreet Northumberland app is for use throughout the County of Northumberland and is designed as a signpost to report issues effecting the street or community within which you live or work.
Users can find information on a variety of areas including:
· Litter, rubbish and graffiti
· Animal
· Street lighting and utilities
· Noise
· Roads
· Info/Intel reports
· Support
· Neighbours/disputes
· Enforcement
From the home page you should be navigated within three clicks to the reporting page for the services, support or information you require.
This app does not replace reporting processes for emergency services. Should there be the risk of immediate harm then call the emergency services for a timely response through the 999 system.
The app has been developed as a partnership between Safer Northumberland, On/trac and Nutshell Apps. The idea for the app came from community feedback and partnership working with volunteers within Blyth, Northumberland - specifically representatives from Northumberland County Council, ICCQ (Improving Croft & Cowpen Quay) and volunteers from street reps, police cadets and the special constabulary working with Blyth Neighbourhood Policing Team. The partnership identified the issues that mattered to communities through consultation and lessons learnt from the '12 Street' initiative. This initiative took a holistic approach to problem solving to address the issues that mattered most to communities.
We would like to continually improve this app for the benefit of you, the user. If you have any improvement suggestions, please email:
- blyth.npt@northumbria.pnn.police.uk
Supported Devices:
BlackBerry Leap
BlackBerry Passport
BlackBerry Passport Silver Edition
BlackBerry Q10
BlackBerry Q5
BlackBerry Z10
BlackBerry Z3
BlackBerry Z30
PlayBook