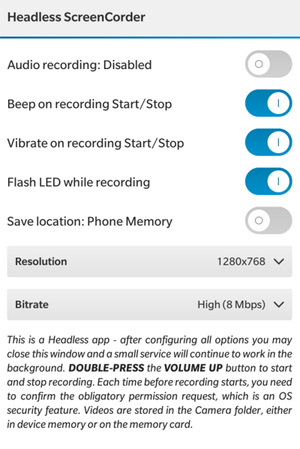 Tag:
blackberry apps
Headless ScreenCorder
Overview :
Headless ScreenCorder v1.0.1.1 for blackberry apps
The first HEADLESS screen recording app for BlackBerry 10. Enjoy the freedom of recording the screen at any time and from any window, without having to launch any screen recording app first and keeping it open. ScreenCorder is a small (60 kB) headless service that works in the background all the time and is always ready to record your screen as soon as you DOUBLE-PRESS the VOLUME UP button. With no need to keep it open, its Active Frame won't spoil your recordings like in normal apps of this kind.
This app pushes the Headless mode to its limits, beyond what it was meant for. It is the first release, so please BE GENTLE WITH US! Rather than bad reviews, please send us all your feedback and suggestions by email and we'll be glad to make improvements and ehnancements of which you'll also benefit.
IMPORTANT NOTES:
** Supported resolutions on the BlackBerry Passport are 720x720 and 480x480. The 1440x1440 resolution is too big for a headless service to handle. On all other device models all resolutions are supported, but the highest one WITHOUT AUDIO. This is an OS restriction (tight limit of memory a headless service can use) and cannot be overcome.
** All requested permissions must be allowed for the app to work correctly.
Supported Devices:
BlackBerry Classic
BlackBerry Leap
BlackBerry Passport
BlackBerry Passport Silver Edition
BlackBerry Q10
BlackBerry Q5
BlackBerry Z10
BlackBerry Z3
BlackBerry Z30
Porsche Design P9982
Porsche Design P9983