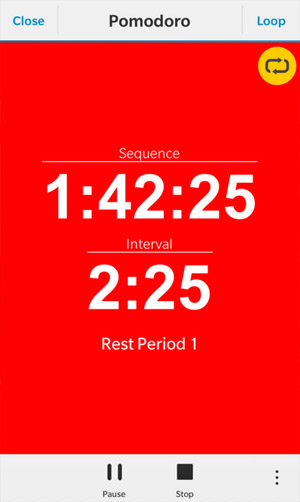 Tag:
multiCRON
Overview :
multiCRON v1.0.0.2 for blackberry apps
The ultimate process timer for home, workshop, gym, worksite, or kitchen! Built on the concept of chaining multiple timed intervals into useful sequences.
IMPORTANT: multiCRON only requests the minimum permissions required for its advertised features. See the end of this page for details.
Features:
● Each sequence consists of one or many highly-accurate intervals of varying duration.
● Large numeric sequence and interval countdown display for easy viewing of running timers even when your BlackBerry is not right next to you.
● Run as many sequence timers concurrently as you wish, each with its own alarms and popup messages. (e.g. time multiple dishes in a complicated meal preparation independently)
● Predefined system templates for productivity enhancement (e.g. Pomodoro, 52/17), concrete/mortar/grout mixing, egg boiling, etc.
● Any sequence can be saved as a user template for creating other similar sequences.
● Can keep display from sleeping when the foreground sequence is running. Allows for hands-free viewing of long sequences while doing messy timed jobs such as cooking or mixing mortar.
● Interval message popups can display even when multiCRON is backgrounded using BlackBerry 10 Instant Previews (OS 10.2+ only)
● Sequences can include text to display when the sequence is not running (useful as a reminder of what the sequence is for, what to do before starting it, etc.)
● Any saved sequence can be configured to open automatically when multiCRON is started.
● Active Frame allows you to monitor sequence and interval countdown from your BlackBerry home screen.
Each interval in a sequence can be set with:
● The duration of the interval in hours, minutes, and seconds.
● A message to display before the interval runs and which waits for user confirmation before continuing.
● Text to display onscreen while the interval is running so you know where in the sequence countdown you are.
● A color to display onscreen while the interval is running, making it easy to tell which interval is active from a distance.
● Selectable alarm sounds to play when the interval finishes.
● Text to display in a popup when the interval finishes.
multiCRON makes anything you do easier to time. Great for cooking and baking, darkroom photography, excercise/fitness, adhesives... anything which has multiple steps with defined durations.
The multiCRON Trial version is free to use but doesn't allow you to save your sequences or templates. Saving requires upgrading to the Full version.
REQUESTED PERMISSIONS:
● Device Indentifying Information: To generate an upgrade license key for the device and check it when multiCRON starts. If you don't allow this permission you will not be able to upgrade to the Full version.
Supported Devices:
BlackBerry Classic
BlackBerry Leap
BlackBerry Passport
BlackBerry Passport Silver Edition
BlackBerry Q10
BlackBerry Q5
BlackBerry Z10
BlackBerry Z3
BlackBerry Z30
Porsche Design P9982
Porsche Design P9983