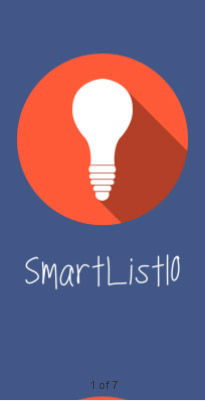 Tag:
SmartList10
Overview :
Welcome to a smarter world!
With SmartList10, creating lists has just become easier than using a pen and paper!
Use one of our SmartModes and let the app create your list for you, instead of tediously entering every single item on your own. Discover the world of smarter lists.
Features:
+SmartDetection:
Write your list down like you would on paper. Dont worry about teaching your phone what items you want in your list. SmartDetection demonstrates what it means to have a Smartphone. It recognizes your items and transforms them into a list!
+SmartCopy:
Simply head over to your favorite cooking website, copy your ingredients list and hit save. SmartList10 does the rest for you. Don't worry about copying each and every item to your list, select it all, once, and let the magic happen.
+SmartFrame:
For the first time EVER on BlackBerry 10, your ActiveFrame becomes interactable. SmartFrame transforms your everyday active frame into a dynamic list, that you can control by simply tilting your device, Scroll trough your list even when SmartList10 is minimized! Completed a Task on your list ? Simply press and hold the volume up key and the highlighted item gets checked! Or navigate trough your list with the volume keys, select your preferred scrolling method in the settings!
+Share lists:
Simply share lists with your family or friends over any of the built in sharing methods provided by BlackBerry : NFC, Bluetooth, Email , BBM etc.
If the receiver has SmartList10 installed, he can simply open up the file and the list gets loaded, with the checked state that the items had when leaving your phone!
+Sync lists(BETA):
Sync lists with your fellow users, and keep them up to date! Change, check, add or delete items and the changes are immediately processed! All 'users' of your lists see them and can add their own items! This feature is currently in public beta and you can help improving it! Take part of the beta and help shape the future of SmartList10!
Enjoy the native experience that SmartList10 brings you, with nice tabbed categories, an easy to use Interface and a user friendly experience.
SmartList10 was built and designed from the ground up with the user in mind.
Supported Devices:
BlackBerry Classic
BlackBerry Leap
BlackBerry Passport
BlackBerry Passport Silver Edition
BlackBerry Q10
BlackBerry Q5
BlackBerry Z10
BlackBerry Z3
BlackBerry Z30
Porsche Design P9982
Porsche Design P9983