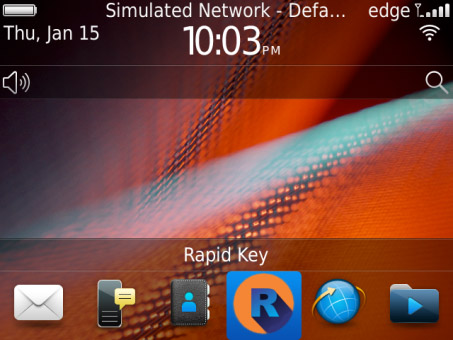 Tag:
Rapid Key
Overview :
Rapid Key 1.8.7 for BB OS5.0-7.0 APPS
Rapid key is a complete solution for shortcut key manager. Shortcuts are strings including lower/upper cases and several special characters shown in your keyboard like (@, +, -...) . In this app, you can create shortcut key for APPs, Device Functions, and of course MACRO. Also, you can easily assign your shortcuts to the volume buttons (Vol up/down and mute). Shortcuts are designed as attractive icons and macro editor is easy to use that probably enhance your experience.
As you download the app, you're using the trial version of Rapidkey. In this version, data is not allowed to be saved when the application is shutdown. To save the data, you have to active the app. The activation cost is 2.99$ and you can buy it in the application option. When the purchase is completed, the app is required to be restarted and you can save your present data at this step. Before closing the app, please wait few second (until a new notification appears) to upload your key to server.
How to use:
1. Launch the app by SPACE (can change in option).
2. Add the apps, functions and macros via menu.
3. Launch shortcuts everywhere by hitting END CALL (Red Button) (except calling screen and several special apps).
4. Setting for volume keys in option.
5. Keycode in macro editor is to simulate a holding key e.g. toggle profile by holding 'Q'. The basis use is KEYCODE: Q (KEYDOWN) > Q (KEY REPEAT: DELAY 1000) > Q (KEY UP).
6. Use '?' character in the KEY macro to make a parameter for macro.
7. The connection should be checked before activating to store your licence in our server.
If you have any other questions, feel free to contact me, thank you very much ^_^

Version: 1.8.7
Required: Blackberry OS 5.0 or higher
Model:
Blackberry OS 7.1 Series: P'9981, 9860, 9850, 9810, 9620, 9360, 9350, 9320, 9315, 9310, 9220, 9930, 9900, 9720, 9790 / Blackberry OS 7.0 Series: P'9981, 9860, 9850, 9810, 9380, 9370, 9360, 9350, 9930, 9900, 9790 / Blackberry OS 6.0 Series: 9800, 9670, 9105, 9100, 9330, 9300, 9780, 9700, 9650 / Blackberry OS 5.0 Series: 9630, 9800, 9530, 9500, 9550, 9520, 9105, 9100, 9330, 9300, 8980, 8900, 8530, 8520, 8350i, 8330, 9700, 9650, 9000