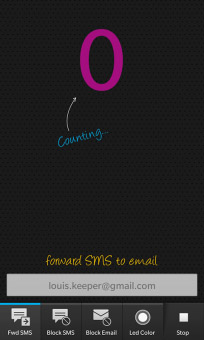 Tag:
BB10
Message X
Overview :
Message X v1.1.1.3 for blackberry 10 apps - Message X is a super utility to assist you with SMS, Email... and more is coming.

Version: 1.1.0.13
File Size: 595 KB
Required: BB10 Smartphone OS 10.0.0 or higher
Model:
Blackberry 10 Devices: Blackberry Dev Alpha, Blackberry Z10, Blackberry A10, Blackberry Q10, Blackberry Q5


Note:
- You must accept all Permission Requests at the first time Message X is running, if any of them is missing, the app won't work properly.
- You have to leave Message X running as Active Frame because BlackBerry® hasn't provided headless-app ability yet. If you quit/exit Message X, it will not function at all. Don't worry, it doesn't drain your battery, it's super power-saving.
- Message X requires full form of phone number which means the phone number should include country code with the plus sign at the beginning, however, in case user just inputs a phone number without country code, Message X assists you automatically.
- In case of sending email, user must have at least 1 email account setup already on device.
- In case of sending a message to a group which might contain both SMS and Email, the subject field in composing screen is for email. It won't be included in outgoing SMS.
- In case something doesn't work as expected, please and please contact us for instant help at: support@viethop.com
Core features:
- Forward all sent/received SMS/Text Messages to your email box.
- Block/Auto Delete unwanted SMS/Text Messages from the Hub.
- Block/Auto Delete unwanted Emails form the Hub
- Private Message Box allows securing your SMS/Text Message conversation, all SMS/Text Messages from particular senders will be stored inside Message X with password locked. Those messages are deleted in the Hub.
- Group Messaging: Create groups of contacts and send message (Email/SMS) to all contacts in group.
- Message Timer: Scheduling sending message (SMS/Email) to single contact or group of contacts.
- Set different led colors for particular message senders.
Explanation of Permissions request:
+ Contacts: Retrieve contact to add to Group
+ Device identifying and information: Application version and name
+ Email and PIN message: Email and SMS to filter
+ Internet: Retrieve country code for SMS related features.