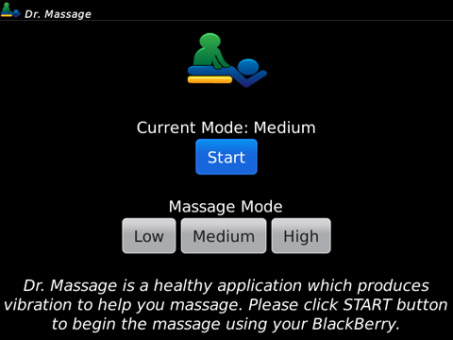 Tag:
9800 apps
Dr Massage
Overview :
Dr Massage v1.0 (os5.0+ apps) - Dr Massage is a healthy application which designed to help you massage by using your BlackBerry.

Version: 1.0
File Size: 39 KB
Required: 5.0.0 or higher
model: Pearl 9100 3G, Pearl 9105 3G, Curve 8520, Curve 8530, Curve 8900, Curve 8910, Curve 8980, Bold 9000, Curve 9300 3G, Curve 9330 3G, Tour 9630, Bold 9650, Style 9670, Bold 9700, Bold 9780, Bold 9788, Curve 9350, Curve 9360, Curve 9370, Storm 9500/9530, Storm2 9550/9520, Torch 9850/9860, Torch 9800, Bold 9790, Torch 2 9810, Bold 9900/9930, 9981

With Dr Massage, your BlackBerry® will become Massage Tool that makes phone vibrates and massages non-stop until you decide that you have had enough relaxation.
Moreover, Dr Massage also provides 3 different speed of vibration to meet your requirement.
Simple, user friendly and relax!
* For BlackBerry® Storm™ and BlackBerry® Storm2™ please follows the instructions to disable the compatibility mode to ensure the application display properly.
1. Go to "Options"
2. Go to "Advanced Options"
3. Go to "Applications"
4. Select the "Dr Massage"
5. Press the menu button on your device
6. Click on "Disable Compatibility Mode"
7. Restart your device
* Once you finish install the application, it will prompt out a dialog ask whether want to allow the permission. PLEASE ALLOW IT.