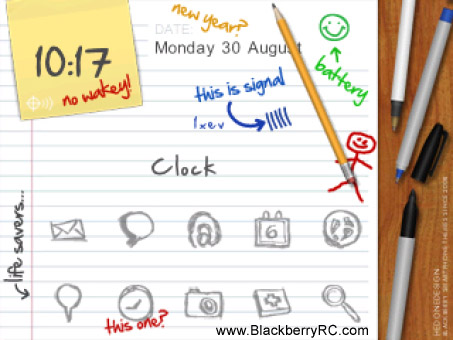 Tag: 9600 theme Skeper
Overview :

A quite clean and beautiful Graffiti theme - Skeper, delicate and novel, transition animations. BlackberryRC.com sharing, if you like please quickly download!



This was specifically designed for the 96xx series running 5.0

model:

Blackberry 96XX Tour (Niagara) Series (480*360):9600, 9630, 9650

size: 797 kb

Description:

Skeper is for all of You who search amusing, funny, different and in the same time functional. It will entertain You with something new and funny every time You look at Your BlackBerry® Smartphone.

'Why amusing?' Because it presents itself with all kind of secret humor You don't expect and 'Why functional?' Because in spite all of that, it's very functional, giving You 10 icons on Your home screen – with useful animation (except on BlackBerry® Storm™ 9500 series).

enjoy!