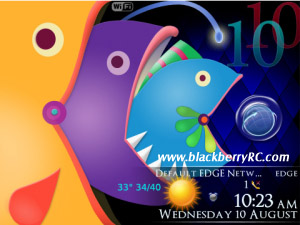 Tag:
Ocean Hunter
Overview :
Free Ocean Hunter blackberry themes (Promotion: Free Now!!!)
Required Device Software:
4.6.0 or higher

Description:
★★★FREE in Limited Time★★★, promotion as prize for MMMOOO fans, Hurry Up!!!
※6 IN 1※, Fantastic Innovation + Creative Homescreen SVG + Weather Slot + Transparent bubble icon + Background signal & battery info + MMMOOO Lily Style★★★.
Our chief designer inspired by the interesting scene of Fish hunt fish in the ocean and create this masterpiece!
Features:
1. Big signal and battery info merge with homescreen background;
2. Interesting doodle style wallpaper about cartoon fish;
3. Dedicate design in each detail
Tips: For the number at homscreen,the red is stand for Battery and the blue is stand for Signal.
To activate the theme after successfully downloading: Navigate to Options - Theme - Select the desired Theme and activate.
To uninstall a theme plz delete it in the application list.
Guarantee satisfaction:
If you find a bug or have a feedback, kindly write email to us, we can assist you well or provide revision asap, and a bonus free theme as well. Be so kind that don't leave a malicious comment at the reviews, because we could not reply comments at App World Reviews.