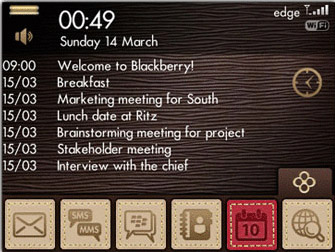 Tag:
love
bold
9000 themes
True
Overview :
True Love for Bold 9000 OS 5.0 free blackberry themes download
Model: Blackberry 90XX Bold (Onyx) Series (480*320) Devices Models: 9000, 9020(Onyx)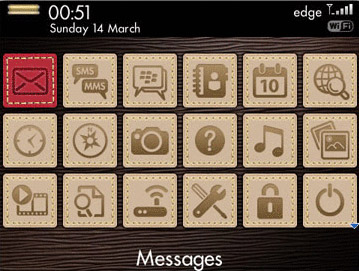 If you are a fan of luxury leather goods this is the theme for you! Luxurious and classy colors and textures. Customized rich leather buttons with fine stitching. Sprinkles of gold accents throughout. Put your favorite luxury brand background as wallpaper and it will blend right in. Your Blackberry deserves that best!
This theme qualifies for BOGO FREE!
Just add this theme in addition to another eligible themes and use the code "BMBOGOSALE" at the check to get the discount (see the bottom for more of our themes)
THERE ARE 3 TYPES OF LAYOUT and 2 COLORS:
- 6 icons at the bottom (like the default theme): all models except 95xx
- 8 icons at the bottom (smaller icon size): all models except 95xx
- 10 icons at the bottom (95xx only)
- All layouts come with either default (RED) focus or PINK. MAKE SURE TO SELECT THE RIGHT COLOR YOU WANT.
For Non-Sliding versions, fill out the support form to submit a request.
Please e-mail me with any problems, questions, or requests and I will do my best to resolve them.
Features:
6, 8, 10(95xx only) icon layout
Red or Pink focus color
Weather app* slot
Sliding bottom dock
Hidden Today
Highly detailed and customized icons and meters that look fantastic
Built-in shortcuts to QuickLaunch* (space bar) and SMS/MMS ("$" key)
Classy, sharp, no lag
*Weather app and QuickLaunch sold separately