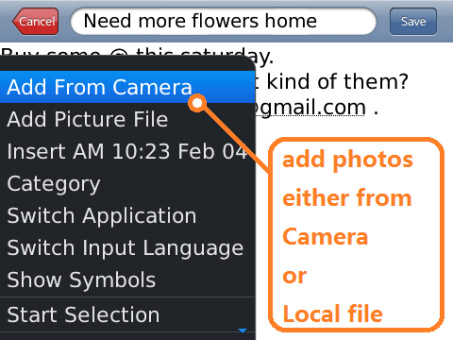 Tag:
Advanced
Notepad
CloverAppz.c
Overview :
Advanced Notepad: With Password and Photo 2.2.6 By CloverAppz.com
size: 176 kb
Model:
9300(Kepler), 9320, 9330, 9350, 9360, 9370, 9380/Blackberry 89XX Curve Series (480*360): 8900(Javelin), 8910(Atlas), 8930, 8950, 8980/Blackberry 90XX Bold (Onyx) Series (480*320) Devices Models: 9000, 9020(Onyx)/Blackberry 96XX Tour (Niagara) Series (480*360):9600, 9630, 9650(Tour2), 9700(Bold2), 9780, 9790, Dakota, Apollo / Blackberry 99XX (OS 7.0) Series (640*480) Devices Models: 9900, 9930, 9981

Description:
What's Advanced notepad ? It's a powerful notes app which supports password-protect, photos-with-notes , export/backup, category manage, etc; and more important, with rich keyboard shortcuts!

Features:
1) Privacy protection
* If you like, you can set password to protect your privacy.
* Password Input NOT use '**', so you will never type wrong password.
2) Note with photos
* You can add one or more pictures to each note, either from Camera or from Local files.
* Support .jpg .png .bmp .gif - you see, all ususal formats.
* Photo resolution adjustable.
* Support Zoom In/Out when viewing photos.
* (NEW) Take photos with camera FLASH LIGHT, and it will remember your last Flash Light setting.
3) Quick
* When write notes, press Escape to save & return back. No annoy save prompt:)
* Load and Save pictures very fast
* Example data: save a full-hd (that is, 1920*1080Pixel, 624KB, jpeg format) image, and it only took less than 1 second on a BlackBerry Bold 9000.
* In most cases, you have no chance of waiting :)
4) Export/Backup notes without 3-rd tool
* Get rid of the slow-big-Desktop Manager, we backup notes by ourselves!
* Export notes to file system (including photos); you can copy & paste it to anywhere.
5) Effective
* Full support of shortcutkeys. (see feature 8)
* For example, focus on notes with photos and press key "P" will show the photos right away.
*(NEW) Move each notes up & down, you can bring your favorite notes to front!
6) Category
* Group notes under different categories.
* Can Add/Delete/Modify categories.
7) Search
* support quick search in notes title, get what you want in a second.
8) Keyboard shortcuts
* A - Add Notes
* D/Del - Delete Notes
* Enter - View/Edit Notes
* E - View/Edit Notes, and Auto Set Caret To End Of Text
* P - Quick View Photos
* O - Open Options Screen
* B - Go Bottom
* T - Go Top
* N - Go Next
* N(ext)/P(revious)/F(rist)/L(ast) - Switch Between Photos
Note:
* If you already have this app, upgrade it may cause REBOOT, please save your SMS, Email draft first.