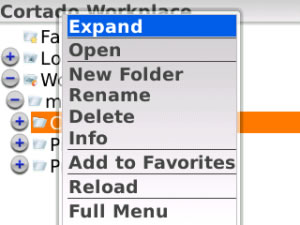 Tag:
7200 apps
Cortado
Workplace
Overview :
Cortado Workplace (Wifi / Bluetooth Printing) (OS 4.2.1)
Model:
Blackberry 72XX Series (240*160) Devices Models: 7200, 7210, 7230, 7250, 7270, 7280, 7290, 7510, 7520, 6510/Blackberry 71XX Series (240*260) Devices Models: 7100, 7110t, 7105t, 7100r, 7100v, 7100g, 7100x, 7100i, 7130e, 7130c, 7130g, 7130v
Description:
Cortado Workplace is a kind of mobile printing applications!
With the help of Cortado Workplace, BlackBerry users can use the phone to manage document or achieve printing at any time, and avoid the restriction of workplace.
Software features:
- Free software
1GB online storage
Manage your file according to your BlackBerry smartphone
BlackBerry smart phones via direct file management
Cloud Printing: Print your files directly from your smartphone
Manage your files through the browser or synchronize your files on multiple machines, such as PC or laptop
Use Cortado Workplace, you will get 1GB free online storage. You can manage your documents and files through the BlackBerry smartphone, PC, or laptop at any time. Thanks to Cortado Workplace, even when you go out, you can manage your files on your smartphone only if you take your phone with you. And you can also synchronize your work with the computer which is in your office.
Attention! Please note that any parallel use of any Cortado print (& fax) software and Cortado Workplace is not possible! If you have previously installed Cortado Basic Print, Cortado Print & Fax, Cortado Connect or Cortado Explorer, please refrain from using Cortado Workplace.