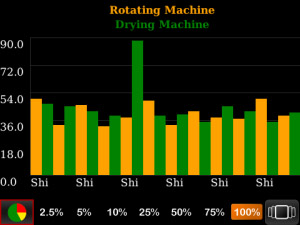 Tag:
8700 apps
SmartGlance
Overview :
free SmartGlance v1.4.0 for blackberry os4.3-4.6 apps
OS 4.3,4.5,4.6
size:2.03 MB
Model:Pearl 8100, Pearl 8110, Pearl 8120, Pearl 8130, Pearl Flip 8220, Pearl Flip 8230, Curve 8300, Curve 8310, Curve 8320, Curve 8330, Curve 8350i, Curve 8520, Curve 8530, 8700, 8707, 8800, 8820, 8830, Curve 8900, Curve 8910, Curve 8980, Bold 9000

Description:
Real time Business Dashboards on your mobile device.
Smart decisions, Anytime, Anywhere.
SmartGlance™ provides mobile access to real-time corporate reports and data instantly. The powerful reporting and analytical tools help you to view your data in rich graphically format, drill down, analyse, pinpoint problems and take actions. Data can be accessed from virtually any enterprise databases including sales, marketing, finance, operations, manufacturing, inventory and distribution applications — all from your mobile device.
Highlights:
1. Supports multiple mobile platforms
2. View Data in Rich Graphical formats
3. Analyse by Charts - graph, bar, pie, donut and more
4. Tools to compare two elements instantly
5. Tools to compare against target/benchmark.
6. All data stored in the App allowing use without internet access
7. XY flip to view data/charts in both directions
8. Drill Down your Data to pinpoint a problem.
9. Share reports, charts and snapshots via e-mail
10."i" button for extra info view based on data and drill down to specific reports for detailed analysis
11. Hotlinks to phone numbers, urls and emails to take action
12. Allows you to take instant action based on your data
13. Ability to send reports real time or on demand
14. Send On –demand reports using an Excel utility
15. Use ready API to connect to any data sources
16. View data in landscape mode for detail analysis
17. Connect with Excel, SAP, SQL, Oracle, CRM, ERP systems
18. Connect with Invensys, Wonderware system
19. Connect with Rockwell Vantage point incuity system
20. Go LIVE in 12 minutes