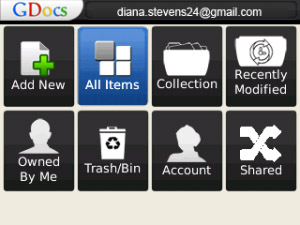 Tag:
GDocs
Overview :
GDocs v1.1 - Create edit upload and share your Google docs
size:494 KB
Required Device Software: Smartphone: 5.0.0 or higher
model: Pearl 9100 3G, Pearl 9105 3G, Curve 8520, Curve 8530, Curve 8900, Curve 8910, Curve 8980, Bold 9000, Curve 9300 3G, Curve 9330 3G, Tour 9630, Bold 9650, Style 9670, Bold 9700, Bold 9780, Bold 9788, Storm 9500/9530, Storm2 9550/9520, Torch 9800

Description:
GDocs allows you to easily Access, Manage, and Upload to your Google Docs Account from Your Blackberry.
GDocs puts all the functionality of the desktop version of Google Docs on your Blackberry device. Quickly and easily create, filter, star, share, rename, delete and upload documents from your Google account.

What can you do with GDocs app?
* Search and Filter your Document List
* Star, Share, Rename and Delete your Document
* View your docs even when you are in offline mode
* Download the documents to your Device
* Move unwanted documents to Trash/Bin and restore them if required
* Easily upload files from your device to your Google Docs Account
* Create new documents and edit them without using Browser
* Create a collection of the documents
* Take a photo with your camera and convert the image to a text document in Google Docs
* Full screen view of documents for better reading
* Send documents via E-mail, Bluetooth
* Update the documents online