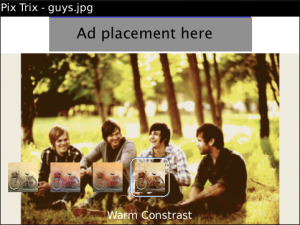 Tag:
99xx
97xx
85xx
98xx
96xx
89xx
95xx
91xx
PixTrix
Overview :
PixTrix v1.5.0 for blackberry apps
OS 5.0,6.0,7.0
model : Pearl 9100 3G, Pearl 9105 3G, Curve 8520, Curve 8530, Curve 8900, Curve 8910, Curve 8980, Bold 9000, Curve 9300 3G, Curve 9330 3G, Tour 9630, Bold 9650, Style 9670, Bold 9700, Bold 9780, Bold 9788, Curve 9350, Curve 9360, Curve 9370, Storm 9500/9530, Storm2 9550/9520, Torch 9850/9860, Torch 9800, Torch 2 9810, Bold 9900/9930

Description:
PixTrix for BlackBerry® is a simple to use app that allows you to apply photographic filters to your photos and share them with your friends. Pick from a selection of predefined filters and make adjustments to the Brightness, Contrast and Saturation of your images. Link the app to your Facebook profile and directly upload the altered photos to your profile or alternatively save them back to your photo album on your phone.
--------
If people would like to submit feedback on any issues please use the contact support button in app world. We can not reply to review comments and would recommend not posting contact details on reviews. It is very difficult for us to fix issues reported in reviews as issues may not be universally effecting and we will need dialog. Reviews with BB pins will automatically be removed.