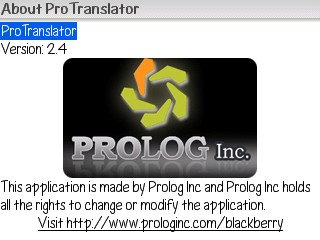 Tag:
ProTranslato
Overview :
ProTranslator V2.4 apps for blackberry
Description:
1. This version is professional edition. It supports translation at random. It uses the library of Google translate.
2. No registration. Free theory. Support the full range, full OS.
3. The free version do not support the searching of designated word, sentence or paragraph. But the professional version supports.
4. In the mail, messaging interface, BlackBerry key, "translate SMS (mail)", automatically copy all the contents to the software and achieve translation.
5. And the result of the translation can also be copied to the clipboard, send text messages and e-mail.
6. With designated word, the 2.1 version can not translate from English to Chinese. But this version has been improved. It can translate at random.
Model:
Blackberry 82XX Series (240x320) Pearl Flip Devices Models: 8200, 8220, 8230/Blackberry 8350i (320*240) Related Devices Model: 8500, 8520, 8530/Blackberry 83XX Series (320*240) Curve Devices Models: 8300, 8310, 8320, 8330 / Blackberry 87XX Series (320*240) Devices Models: 8700c, 8700r, 8700f, 8700g, 8703e, 8707, 8707g, 8707v .etc /Blackberry 88XX Series (320*240) Devices Models: 8800, 8820, 8830 .etc /Blackberry 89XX Curve Series (480*360): 8900(Javelin), 8910(Atlas)/Blackberry 90XX Bold (Onyx) Series (480*320) Devices Models: 9000, 9020(Onyx)/Blackberry 96XX Tour (Niagara) Series (480*360):9600, 9630, 9650(Tour2), 9700(Bold2) /Blackberry 95XX Storm Series (360*480):9500, 9510, 9520, 9530, 9550(Storm2)/Blackberry Pearl 3G Series (360*400) Devices Models: 9100, 9105