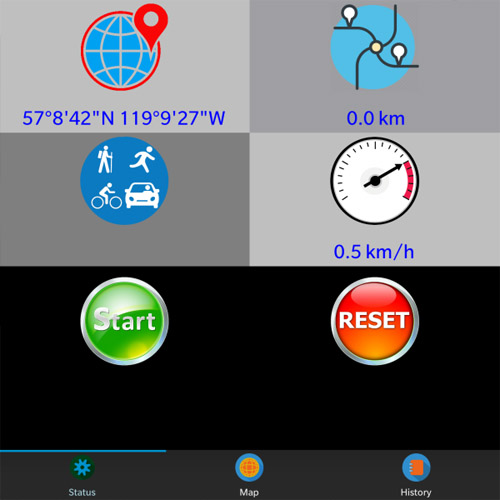 Tag:
bActive
Overview :
bActive v1.0.0.1 for blackberry apps
bActive is a fitness application to keep track of your steps, calories and distance while walking, jogging or biking.
You can also use bActive to track your driving.
bActive use the GPS to track your movement and saves all the information such as GPS coordinate, speed, distance traveled and date time to the database.
At a later time you can review your route on the map or export the data to HTML document and view on desktop computer or share with other people.
Features
✪ Use GPS to track your movement
✪ Real time update of your current GPS location, speed, calories, steps and distance
✪ Real time map view of your current location (requires Internet to view map)
✪ Saves all the location data to the database for later review
✪ Integrates with Google Maps
✪ Share your route with other people
✪ Review saved routes on map
✪ Export saved routes to HTML document and view on Desktop browser or share with other
✪ Detailed view of your route with interactive markers on the map
✪ Keep screen always on. Perfect for biking and with car mount
Supported Devices:
BlackBerry Classic
BlackBerry Leap
BlackBerry Passport
BlackBerry Passport Silver Edition
BlackBerry Q10
BlackBerry Q5
BlackBerry Z10
BlackBerry Z3
Porsche Design P9982
Porsche Design P9983