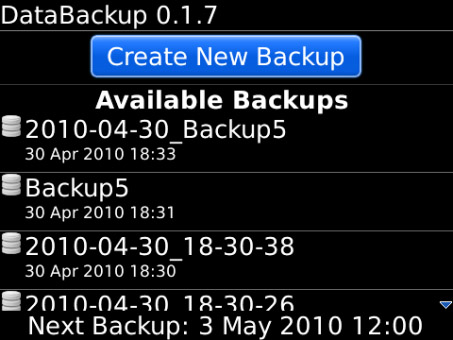 Tag:
Data Backup
Overview :
Data Backup 0.1.13 for blackberry apps
size: 219 kb
Required Device Software Operating System: 4.6.0 or higher
Model:
Blackberry 81XX Series (240*260) Pearl Devices Models: 8100, 8110, 8120, 8130/Blackberry 82XX Series (240*320) Pearl Flip Devices Models: 8200, 8220, 8230/Blackberry 8350i (320*240) Related Devices Model: 8500, 8520, 8530, 9300(Kepler), 9320, 9330, 9350, 9360, 9370, 9380/Blackberry 83XX Series (320*240) Curve Devices Models: 8300, 8310, 8320, 8330 / Blackberry 87XX Series (320*240) Devices Models: 8700c, 8700r, 8700f, 8700g, 8703e, 8707, 8707g, 8707v .etc /Blackberry 88XX Series (320*240) Devices Models: 8800, 8820, 8830 .etc /Blackberry 89XX Curve Series (480*360): 8900(Javelin), 8910(Atlas), 8930, 8950, 8980/Blackberry 90XX Bold (Onyx) Series (480*320) Devices Models: 9000, 9020(Onyx)/Blackberry 96XX Tour (Niagara) Series (480*360):9600, 9630, 9650(Tour2), 9700(Bold2), 9780, 9790, Dakota, Apollo /Blackberry 95XX Storm Series (360*480):9500, 9510, 9520, 9530, 9550(Storm2), 9570(Storm3)/Blackberry Torch Series: 9800(Torch), Torch2, 9810, 9860/Blackberry Pearl 3G Series (360*400) Devices Models: 9100, 9105, 9670(Style)/Blackberry 99XX (OS 7.0) Series (640*480) Devices Models: 9900, 9930, 9981

Description:
It is now very easy to backup the personal data on your BlackBerry® to the SD Card. An installed microSD card is required.
New features since version 0.0.4 (BETA 3):
Tasks backup & restore.
Calendar Events backup & restore.
Emails backup & restore.
Restore List: shows all previously created backup files for easy selection and restore.
Backup location: choose the backup directory.
Backup medium: media card and internal memory supported.
Restore Detection: automatic detection which content is in a backup.
Restore Selection: choose which data to restore (memos, tasks, … or all).
Progress Bar: shows the progress during backup.
Step-by-Step: backup and restore screens. Keep it simple!
User interface improved:
New program icon.
Font size is now adjustable over all screens.
Progress bars now pop up.
Layout in backup and restore screens simplified.
Minor user interface issues have been fixed.
New features since version 0.1.7 (BETA 4):
Feature add: backup & restore of categories
Feature add: backup & restore of phone call log
Feature add: wipe data before restore (optional)
Feature add: use current ISO date as default file name (can be adjusted in options)
Feature add: report for items that could not be backed up
Feature add: periodic backups added (daily, weekly, monthly)
Feature add: options - background color customizable
Change: general user interface improvements
Change: splash screen added
Change: better error handling
Bug fix: email backup did crash
Bug fix: task backup/restore; priority was wrong
Bug fix: minor bug fixes