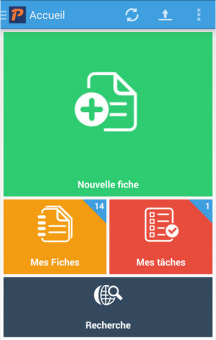 Tag:
PictBase
Overview :
PictBase 1.0.109 for blackberry classic, passport apps
PictBase Forms is a customizable app created for businesses. The app is a Rich form builder that allows you to chose from 17 field types: image, boolean (checkbox), single list choice, multiple list choice, localization, date, time, stopwatch, conditional fields, relational structures, ...
Connect to the admin web page to build your mobile apps from scratch without any development, so your sales forces, technicians, inspectors, auditors and investigators can use it on the field.
Using the multi user web calendar, you can also create tasks that will be automatically send by push message to your users smartphone/tablets.
Advanced reporting features will allow you to send automatically Word/Excel/PDF customizable documents build from data gathered by Pictcase Forms.
This solution allows your company to build customized mobile apps dedicated to your activity. PictBase Forms will help you manage your outdoor activities by optimizing the performance of your teams and mobile workers.
Building a PictBase Forms project is really fast and simple, as is the deployment.
PictBase Forms has been awarded for best mobile application solution for businesses in 2011.
DaXium company exists since 2005 and has offices in Paris, Nantes, Brussels Indian Ocean and Dubai, with a network of expert distributors.
www.daxium.com - France Tel : +33 1 41 02 93 50
------------------------------------------
PictBase Forms strengths
• All in one Solution : web management tool with its business application library to create your custom mobile application (forms with lists , pictures, localization, signatures ... )
• Tasks scheduler : create user specific tasks based on his calendar and push them automatically to the user mobile.
• Full customization of the data management tool (SaaS)
• Scheduled reports and statistics documents can be generated and sent (PDF , Word and Excel formats)
• WYSIWYG web form builder that allows you to generate native apps for 4 Mobiles OS.
• Fast mobile project deployment and complete autonomy of the company for the administration and update of the solution
You want to test the app ?
Install PictBase Forms on your device, then select the Demo mode in order to see and try some forms samples
You want to go further and build your own forms ?
• Please contact us to get an access to our web platform
• Create your forms online
• Install PictBase Forms on your users devices
• Pair your users devices to your PictBase Forms online account
• Open the app and press the synchronize button to get the forms on your device
• You can then start editing your forms on your devices. Press the send button once you're done editing them so they're sent back to the server
Examples of electronic forms you can easily build with PictBase Forms
• Survey, poll, quiz
• Inventory
• Expense report
• Rental application form
• Contact form
• Delivery tracking
• Time tracking
• Purchase order / invoice
...
Supported Devices:
BlackBerry Classic
BlackBerry Passport
BlackBerry Q10
BlackBerry Q5
BlackBerry Z10
BlackBerry Z3
BlackBerry Z30
PlayBook
Porsche Design P9982
Porsche Design P9983