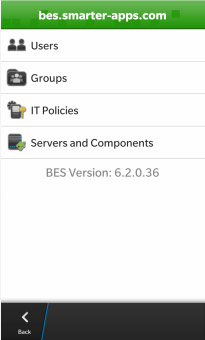 Tag:
BB10
IT Manager
Overview :
The IT manager has issued a major update to 2.3.0.102, and added some new features. The IT manager is a kind of application that allows you to monitor and manage your service , the application provides a free trial, you can choose the order according to week or month or chronological after the trial expiring.
Version: 2.3.0.102
File Size: 4 MB
Required Device Software:
BB10 Smartphone: 10.0.0 or higher
Model:
Blackberry 10 Devices: Blackberry Dev Alpha, Blackberry Z10, Blackberry A10, Blackberry Q10, Blackberry Q5
Description:
IT Manager is an all-in-one enterprise server administration tool, allowing you to monitor and manage all your critical IT servers. Download it free of charge and after the free trial period expires, you will be offered weekly, monthly or annual subscription options. Annual subscriptions are just $99 USD per year for unlimited usage.
SSH and Telnet features:
- SSH with password or key authentication
- Connect over the MDS connection of the BES server
- VT100 and color XTerm support
- Extended 101-keys support on full touch and keyboard devices
VNC feature details:
- VNC connections to any VNC server running on Windows or Unix
- Apple Remote Desktop connections to Mac computers
- Connect securely to computers inside the firewall with the BlackBerry MDS server
Supported BlackBerry Enterprise Server (BES) Management tasks:
- Create & Delete Users
- Set User Activation Passwords
- Remove and wipe Devices
- Set Password and Lock devices
- Add and remove users from groups
- Set User and Group IT Policies
- Assign User Email Profiles
- Assign Software Configurations to Users
- View IT Policy Rules
- View Server and BES Instances status
- Support for managing BES 5.x and BES 10
- Support for multiple BES servers simultaneously
VMware features:
- Virtual Machine actions: Power Off/On, Suspend/Resume, Reset, Shut Down
- Host actions: Reboot, Shut Down, Disconnect/Connect, Enter/Exit Maintenance Mode
- View Memory, CPU and Storage usage of Hosts and VM's
- Browse network by Hosts, Virtual Machines or Datacenters
- Support for ESXi vSphere Hypervisor and vCenter Server
- vCMA server is NOT required to use this app
Simple installation, no additional server needed. Simply install the client on your device and point it to your servers. Purchasing an IT Manager subscription also allows you to use it on other platforms such as BlackBerry 10 or iOS. Your license can easily be transferred to these devices.