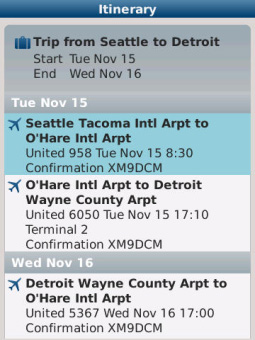 Tag:
Concur
Overview :
Concur - Expense and Travel Management 8.14
With Concur's mobile application for BlackBerry®, you can easily create, review and approve expense reports and access your business travel itineraries. Concur's mobile app works with Concur's solutions including Concur Small Business, Standard, Professional, and Premier. Visit concur.com to learn more.
Concur's Expense users can:
*Capture expenses and receipts on the go using your Blackberry's camera
*Select credit card charges to add to an expense report
*Create and submit expense reports
*Approve or reject expense reports
*View and edit credit card charges
*Approve Travel Request
Concur's Travel users can:
*View flight status details such as delays, cancellations, departure gates and times
*Search for and book a flights, rental car, hotel and Amtrak train
*Enter custom trip fields
*Get directions
*Approve employee trips
Learn more at concur.com. You must be an existing Concur user and have created a Mobile PIN or know your web password to access the application. Set the mobile PIN on the Mobile Registration page under your profile on the web.
Not using a Concur solution today? Visit concur.com to learn more or start a free trial of Concur Small Business/Standard - Best Practice Driven Travel & Expense Management for Small & Medium Sized Businesses.