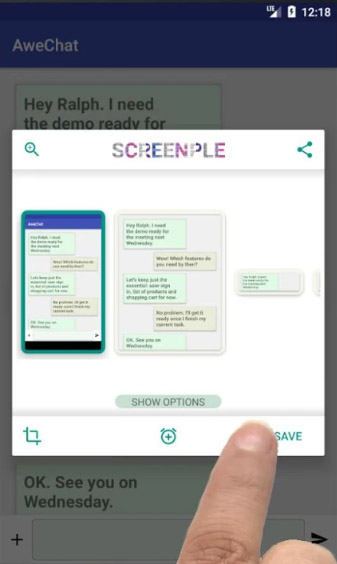 Tag:
Screenple
Overview :
Screenple takes Android screenshots to a new level. It can edit and manage all screenshots, automatically select different areas after screenshots, and add text descriptions for screenshots. Like popular application profiles, it also supports screen buttons and reminders.
Screenple takes screenshots to a whole new level providing powerful tools to take, manage and use your screenshots as always accessible practical notes.
Take screenshots without interrupting your navigation flow to save that important information or funny things that you are seeing on any app. Manage and visualize the ones you collect with a fast and simple to use interface. Easily share selected parts of the screen with the simple auto-crop function or use the manual cropping to frame exactly what you want. Be more productive with the quick reminder and never forget your commitments again having the information you need quickly and at you reach thanks to a very handy notification with the image. Copy addresses or any text directly from the saved screenshots and use the in-app search to save you time. Share images from your gallery or take pictures directly with the built-in camera function so that you can keep notes even with your printed documents.
Screenple screenshots' consume only a small amount of memory space and your collections are available to you even when the phone is in offline mode so no issues when you get off the grid and need that vital data you saved such as flying tickets, hotel reservations, travel tips, addresses, bills, and everything else you can imagine.
The free cloud backup gives you the tranquility you need so that you can count on recovering your screenshots even when you replace your phone.
Screenple main features:
- Choose the way you want to take the screenshots: traditional combination of power and home button, long press on home button (for phones with Android Lollipop and above), floating button (Lollipop and above), notification message (all versions);
- Save the whole screenshot, a smaller crop or multiple parts (long press to select multiple);
- Automatic crops suggestions and easy manual cropping also available;
- Select any text from your screenshot - even handwriting: you can just tap one word or tap and hold to select test;
- Share your screenshots individually or as a photo collection where you can add title and notes;
- Combine multiple screenshots in one single image;
- Optionally add labels to categorize your captured screenshots;
- Use notes to add information to be stored with the captured screenshots (tip: double tapping on the cards is a shortcut to add notes);
- Easily navigate through all your screenshots, filter them by label or use text search to find words in the screenshots or within the notes;
- Use the full screen view mode (activated with double tap on the image) to freeze screen direction and max up the brightness (option in settings) - optimized for barcode scanners;
- Never lose any of your screenshots and notes, click on the cloud button and start using the free automatic backup to your Google Drive.